I was a paper-girl back in the day, delivering every type of newspaper and magazine to my neighbours homes. Most mornings I would haul weighty, hessian bags on my thin shoulders before school, in all weathers and on Sundays I had the heaviest work, when I'd have to stop every few minutes at the beginning of my round until I'd part-emptied my bag of the heavily supplemented editions.  Mostly, though, I was rather slow because I'd spend a lot of time actually reading what I was meant to deliver, soaking up the latest news headlines as well as pictures from glossy titles hinting at a whole new world of glamour and style to a shy and uncultured 13 year old. So, call me old-fashioned, but it's no surprise that I now look forward to being on the receiving end of those same deliveries, by having my Burda magazine delivered by my local newsagent each month. I love to get my hands on real printed pages and after 3 years subscribing I still can't help being excited to see what each edition brings.
Quite often there's nothing much of interest, however this outfit in their May edition really grabbed my attention and I had to make it right away.
I started on the trousers, as they looked great for summer, however I had to make so many adjustments that I finally gave up on them. I just couldn't get the right combination of bagginess, style  and comfort and they really weren't very flattering. The top, however, yielded better results.
The cotton shirting fabric came from Fabworks, again, and creases rather easily unfortunately, but is a lovely crossweave. I shortened the top a few inches as well as reducing the depth of the neck opening to prevent the whole of my bra showing. That front opening is scandalously low.  I also did my usual forward shoulder and sway back adjustments. (The jeans are unblogged Burda)
I finished the inside of the hem and neckline with some purchased Liberty bias binding. I really dislike making binding.
For the trousers I tried the unfortunately named Flat-bottomed Flo. Thank goodness it was sent through the post in a plain wrapper! Style Arc's Flo pattern is a simple design and, since I always have to do a FBA (flat butt adjustment, ha! )  I was hoping for some success. For once, I hit the jackpot, as they needed only small adjustments to give a decent fit. Basically, I just shortened them, took a 2cm wedge out of the yoke for my sway back, shortened the waistband and that was it.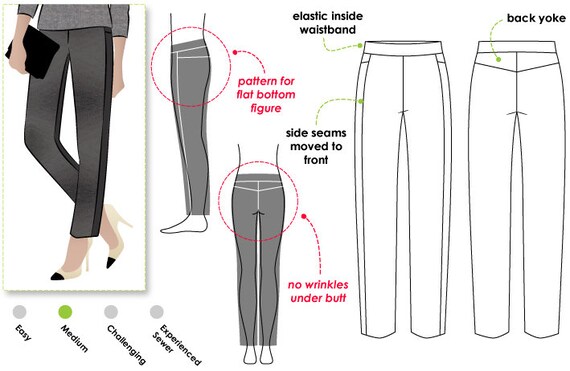 I teamed the pattern with some heavyweight stretch cotton I got from my fabrics. It feels like a denim, sewed beautifully and will hopefully wear well. I've had it a while and was happy to experiment with it on this pattern. It reminds me a bit of curtain fabric but I love the colours.
The front looks pretty good.
I will need to do a knock-kneed adjustment though as the front seamline is definitely pulling inwards. This is another adjustment I usually have to make. I really shouldn't be too surprised at this as my mum once entered me for a nobbly knees competition on holiday when I was small, and, to my shame, I won!
The back fits well over my posterior. I added pockets for practicality, although they are lost in this busy design. The elastic waistband is very comfortable. I may narrow the legs in future too.
Although the print is not particularly flattering on my lower half, it's a very comfortable and practical outfit. I've already made the top again in a striking Vlisco fabric and will definitely be making the trousers again.
The weather has been beautiful here and taking photos outdoors was a real pleasure, for a change. Our pear tree has done so well, after giving us nothing last Summer. Those fruits look almost ready, yum!